As a parent, I've witnessed the incredible impact that construction toys can have on preschoolers. These toys, like building blocks and magnetic tiles, do more than just entertain – they unlock a world of potential for our little ones.
They ignite imagination, improve fine motor skills, and provide endless opportunities for learning and growth. In this article, we'll explore the power of construction toys for preschoolers, from developing problem-solving skills to fostering hand-eye coordination.
So let's dive in and discover the incredible benefits that these toys bring to our children's lives.
Key Takeaways
Construction toys enhance creativity, imagination, and problem-solving skills.
They improve fine motor skills and hand-eye coordination.
Construction toys foster cognitive development and spatial awareness.
They promote critical thinking, logical reasoning, and imaginative play.
The Benefits of Construction Toys for Preschoolers
I absolutely love how construction toys for preschoolers enhance their creativity and imagination, develop problem-solving skills, and improve fine motor skills.
Research has shown that construction toys play a crucial role in a child's development, especially in their social skills.
Parents play a vital role in promoting construction toy play by providing the necessary toys and creating a supportive environment.
Studies have demonstrated that construction toys encourage collaboration and cooperation among preschoolers, fostering their social interactions and communication skills.
These toys also help children develop empathy, as they learn to understand and respect others' ideas and perspectives during collaborative play.
Developing Problem-Solving Skills Through Construction Toys
Encouraging problem-solving skills, construction toys offer preschoolers hands-on learning experiences that actively engage their cognitive abilities. Through construction toy activities, children are presented with various problem-solving challenges that require critical thinking and logical reasoning.
As they build structures, manipulate shapes, and connect pieces together, they are encouraged to think creatively and find solutions to design and construction problems. These activities not only foster their problem-solving abilities but also stimulate their imagination and creativity.
Construction toys provide a platform for children to explore and experiment with different ideas, allowing them to develop a deeper understanding of cause and effect relationships. By engaging in construction toy activities, preschoolers develop essential problem-solving skills that will benefit them in various aspects of their lives.
Improving Fine Motor Skills With Construction Toys
Developing fine motor skills is a crucial benefit of engaging with construction toys for preschoolers. Playing with construction toys has helped me improve my concentration and enhance my dexterity as a preschooler. Here are a few ways construction toys have made a difference in my development: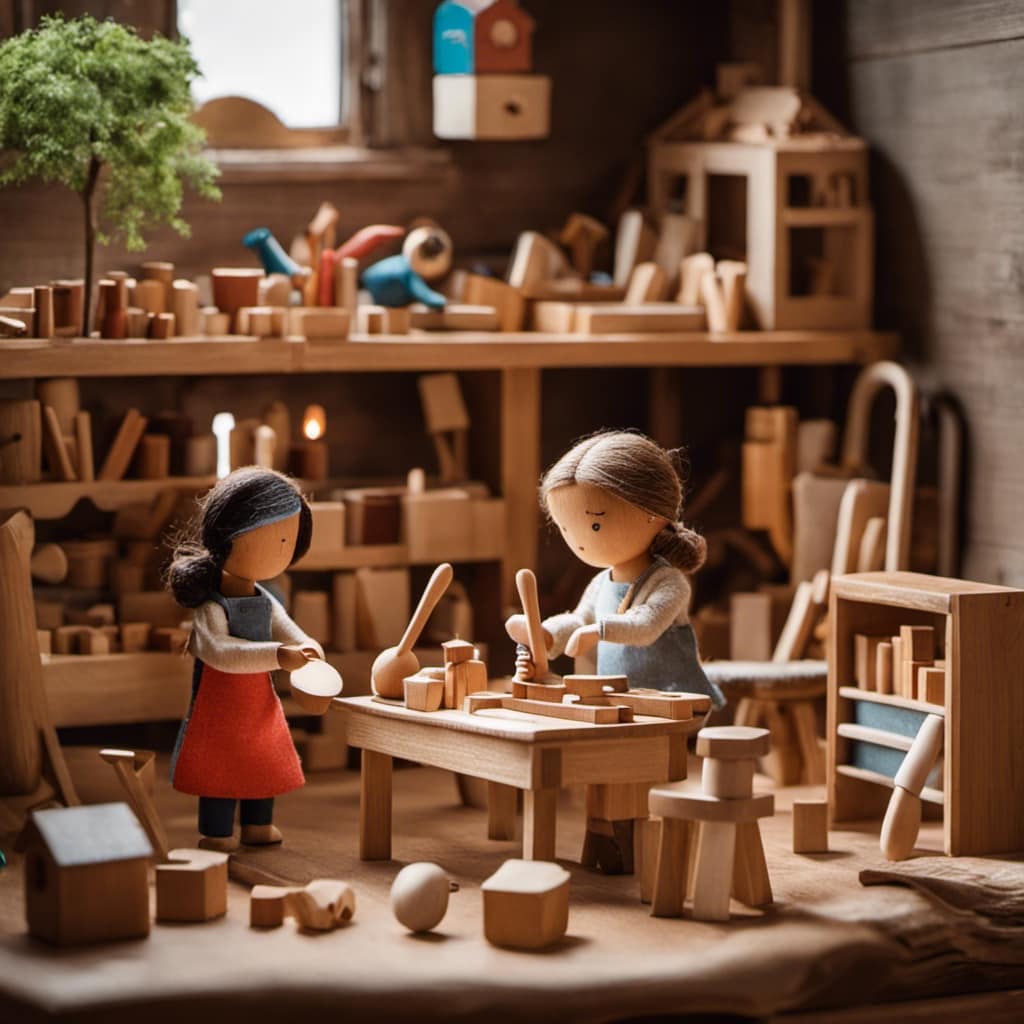 Building with blocks has taught me to focus and pay attention to details.
Manipulating small pieces like magnetic tiles and interlocking gears has enhanced my hand-eye coordination.
As I construct marble runs, my fingers become more nimble and my dexterity improves.
Playing with construction vehicle sets allows me to practice precise movements, improving my fine motor skills.
The Cognitive Development Boost From Construction Toys
Playing with construction toys has numerous benefits for preschoolers. It enhances problem-solving skills and fosters critical thinking abilities by providing a hands-on learning experience. Engaging with these toys helps children develop spatial awareness, improve hand-eye coordination, and strengthen logical reasoning skills. Additionally, construction toys spark creativity and imagination, allowing children to explore and experiment with different designs and structures. By manipulating and building with the toys, preschoolers learn to analyze problems and find solutions, enhancing their problem-solving abilities. Furthermore, construction toys promote cognitive development by encouraging children to think critically and strategically. They learn to plan and execute their ideas, developing important cognitive skills that will benefit them in various aspects of their lives. Overall, construction toys play a vital role in enhancing preschoolers' cognitive abilities and promoting their cognitive development.
Enhancing Spatial Awareness With Construction Toys
I love how construction toys allow me to explore and understand three-dimensional space in a hands-on and interactive way. They have the power to enhance spatial awareness and reasoning abilities. Through these toys, children can develop a better understanding of how objects relate to one another in space.
Here are four reasons why exploring spatial relationships through construction toys is so important for preschoolers:
Improved problem-solving skills: By building structures and manipulating objects, children learn to visualize and plan their actions, enhancing their ability to solve spatial problems.

Enhanced creativity: Construction toys encourage children to think creatively and come up with unique designs and solutions.

Strengthened hand-eye coordination: Manipulating construction toys helps children refine their motor skills and hand-eye coordination, which are essential for everyday tasks.

Expanded spatial reasoning abilities: Construction toys provide opportunities for children to develop their spatial intelligence, which is crucial for success in subjects like math and science.
Building Critical Thinking Skills With Construction Toys
As a parent, I've noticed that construction toys provide an excellent opportunity for my child to develop critical thinking skills through problem-solving and creative thinking.
Research shows that engaging in construction play allows children to explore and experiment with different materials and concepts, enhancing their ability to think critically and solve problems. By manipulating and assembling various parts, children learn to analyze and evaluate the best strategies to build structures or solve challenges. They develop problem-solving abilities by encountering obstacles and finding innovative solutions.
Construction toys also encourage creativity, as children can use their imagination to create unique designs and structures. Whether it's building with blocks, constructing with magnetic tiles, or assembling gears, these activities stimulate critical thinking strategies and promote problem-solving skills in an enjoyable and hands-on way.
Igniting Creativity and Imagination With Construction Toys
Using construction toys has sparked my child's creativity and imagination, allowing them to envision and create unique structures and designs. It's truly amazing to witness the power of these toys in promoting imaginative play and encouraging open-ended creativity.
Here are a few emotional benefits that construction toys provide for preschoolers: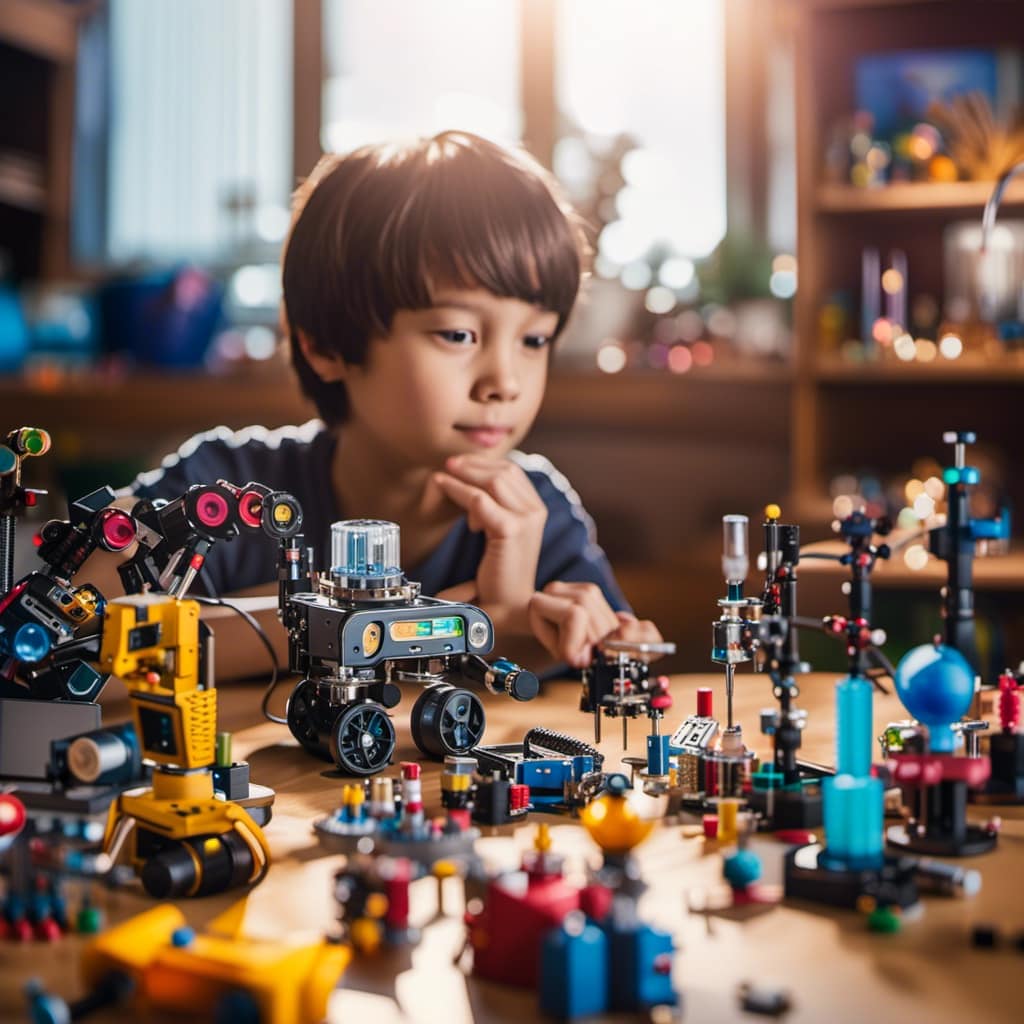 Empowerment: Construction toys give children a sense of control and ownership as they build and create their own designs.

Joy: The joy and excitement on their faces when they successfully build something is priceless.

Exploration: Construction toys allow children to explore different materials, shapes, and colors, stimulating their curiosity and sense of wonder.

Pride: Completing a construction project gives children a sense of accomplishment and boosts their self-esteem.
Fostering Hand-Eye Coordination Through Construction Toys
By incorporating construction toys into playtime, children can enhance their hand-eye coordination as they manipulate and assemble different pieces together. Construction toys, such as building blocks and interlocking gears, require precise movements and coordination to fit the pieces together.
As children engage in this type of play, they are strengthening the connection between their hands and eyes, improving their ability to visually guide their movements and manipulate objects. This process not only helps with fine motor skills, but also lays the foundation for other important skills like handwriting and sports.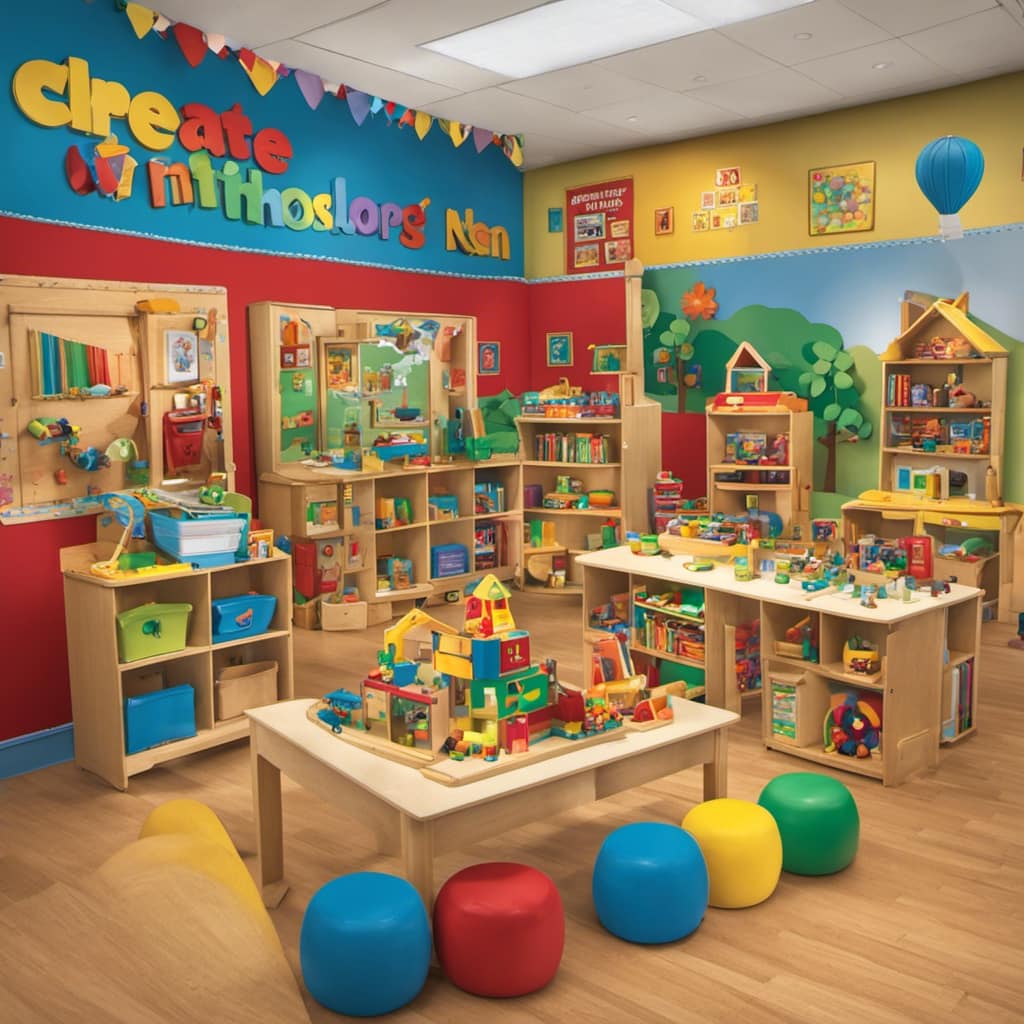 Additionally, construction toys provide sensory benefits for preschoolers. The different textures, shapes, and sizes of the pieces stimulate their senses, promoting sensory exploration and development.
Through construction toys, children can enhance their hand-eye coordination while also enjoying the sensory experience of play.
Frequently Asked Questions
How Do Construction Toys Promote Collaboration and Social Skills in Preschoolers?
Construction toys promote collaboration and social skills in preschoolers through collaborative play benefits and social interaction advantages. They encourage children to work together, share ideas, communicate, and problem-solve, fostering important social and emotional development.
Are There Any Safety Concerns Associated With Construction Toys for Preschoolers?
As a parent, I understand the importance of safety concerns when it comes to construction toys for preschoolers. It's crucial to follow age recommendations and supervise play to ensure a safe and enjoyable experience.
How Can Parents and Educators Incorporate Construction Toys Into a Child's Daily Routine?
I can incorporate construction toys into a child's daily routine by providing hands-on learning experiences. This helps them develop problem-solving skills and boosts creativity. Encouraging open-ended play and storytelling also fosters their imagination.
Can Construction Toys Be Used to Teach Other Subjects, Such as Math or Science?
Yes, construction toys can teach math and science concepts. Integrating them into the early childhood curriculum helps children develop spatial reasoning, problem-solving, and critical thinking skills while exploring STEM principles in a hands-on, engaging way.
Are There Any Specific Construction Toys That Are Recommended for Children With Special Needs?
When recommending construction toys for children with special needs, it's important to consider their unique abilities and challenges. Certain toys, like sensory blocks or adaptive building kits, can provide inclusive play experiences that promote development and learning.
Conclusion
In conclusion, construction toys are like little keys that unlock a world of potential for preschoolers. They're more than just toys; they're tools for learning and growth.
Just as a key opens a door, construction toys open the door to creativity, problem-solving, and cognitive development. They are the building blocks of imagination, the gears that turn critical thinking, and the marbles that roll towards spatial awareness.
With construction toys, children can unlock their full potential and build a bright future.